In 2010 Miki, your iStudyJapanese teacher, started her Japanese language classroom in Perth, Western Australia and since then she has taught over one thousand students.
How does the Japanese language work? What is the language etiquette when communicating with different people? For Japanese people, the way one speaks changes according to the situation - this knowledge is an essential feature of what you will learn.
Miki specialises in teaching English speaking students Japanese for the first time. Having taught all levels up to Business Japanese, she knows that building a solid foundation from the beginning is very important.
There are two different ways of you learning at iStudyJapanese.
Group Lessons (there are two options)

Video-On-Demand Lessons
See the details below to decide which method best suits you.

Why iStudyJapanese?
✔︎ Practical - Learn by doing - with step-by-step lessons. Lessons are presented in a 'new learner-friendly manner', which improves your ability to grasp and remember important concepts.
✔︎ Material for Effect Learning - A number of helpful learning aids which Miki has developed over the past 10 years. You can download or print them. These make it easy to grasp the fundamentals of each lesson.
✔︎ Support - Get one-on-one support.
✔︎ Quiz App - You have access to multiple review flashcards which are excellent for you to practise what you have learned.
✔︎ Lessons are Filmed - If you miss a lesson you can catch up. You won't miss anything.
✔︎ Natural Japanese Communication - Just like a Japanese local.
✔︎ Many Opportunities to Practise - Improve your speaking and listening skills.
✔︎ Learn from Miki - Your native speaking Japanese teacher. She pronounces words and phrases perfectly using her training as a professional narrator in Tokyo.
✔︎ Value - Students rate iStudyJapanese as great value for money.
✔︎ Community - Join 'iStudyJapanese Family Lounge Facebook Group'. You are not alone, we are a family!

Group Lessons
I offer beginners' Japanese lessons from Level 1 to 5. Each level has 10 x 75-minute lessons.
You will have access to the iStudyJapanese LMS (Learning Management System) where you can download documents and watch new and archived videos.

During Level 1 you will need to read and write the 92 hiragana and katakana phonetic characters to progress to Level 2. This requires practice outside of lessons.

The choice of lessons are:

●XFace-to-Face Interactive Learning - 6 students per class
This is for you if you have enough time to review and complete homework before each lesson.

●XLive-Stream Learning via Zoom
This is for you if you like group lessons but prefer to study at your pace.
As a viewer, you will study and proceed with the face-to-face interactive learners via Zoom. You can ask questions during the lesson by text.
If the lesson time doesn't work with your schedule, you can study via the recorded videos.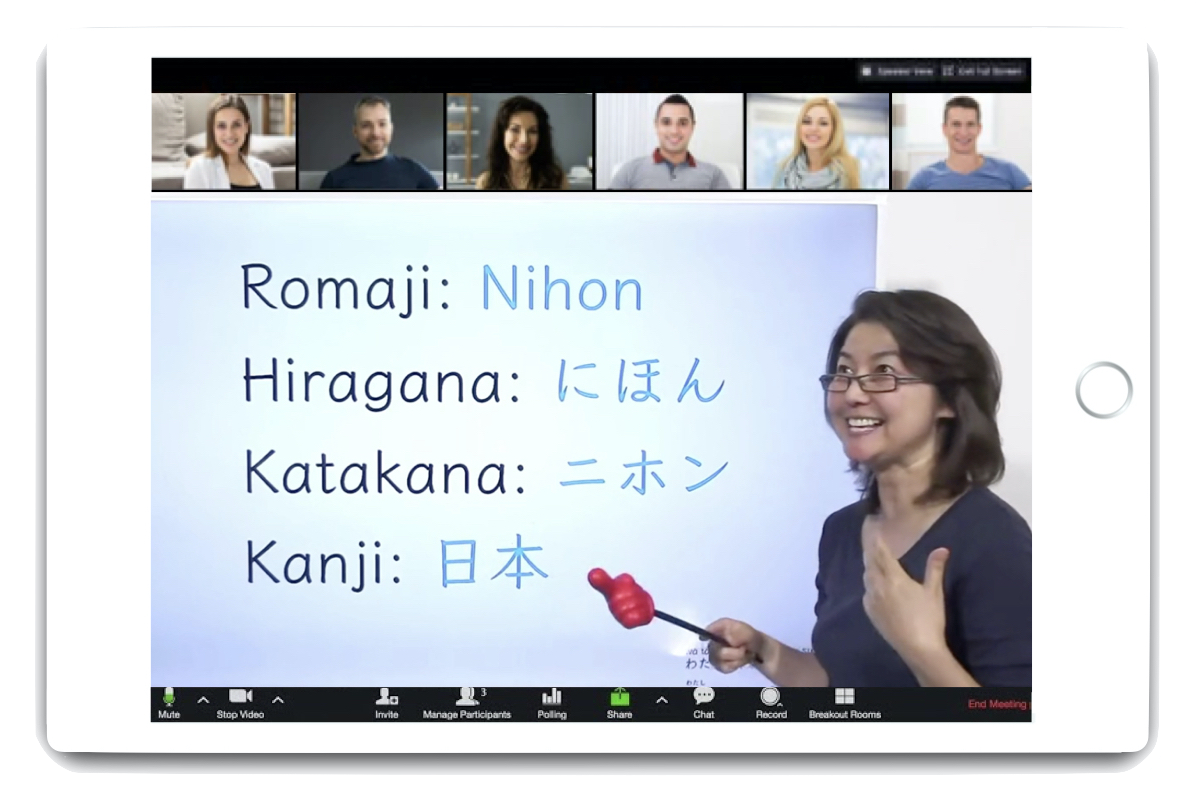 New - You are welcome to join as a live-stream learner now -

Friday 7:00 to 8:15 pm from February 10th

If the lesson time doesn't work with your schedule, you can study via the recorded videos. You can catch up on the lessons you missed.

Cost for Level 1 (10 weekly lessons):

- Live-Stream Learning: $190 [You can join now.]

- Face-to-Face Interactive Learning: $390 [it is full, sorry]

* Please note Miki will be in Japan after Lesson 5. The last 5 lessons will be via Zoom from Japan.

If you would like to receive information about future classes, please email Miki at [email protected].

Lesson Times
All classes start from Level 1. Lessons are provided once a week for 75 minutes.
* Sometimes lessons extend by a maximum of 15 minutes. If you need to leave, you can watch a recorded video later.


What you will learn in Level 1
Even if you know a little Japanese and can read and write Japanese scripts, I recommend that you start from Level 1 because you will learn vital elements of Japanese communication.

・Japanese social custom
・Understand 3 different ways of speaking and writing (polite/plain/honorific)
・The difference between polite form and plain form
・Japanese pronunciation and pitch accent
・Traditional soft pronunciation tips
・Japanese writing and reading system
・Self-taught Japanese characters and the writing order rules
・Basic greetings and phrases
・Common Japanese acknowledgement expressions
・Numbers from 1 to 100,000 (and use of o'clock, minute, hours, age)
・Noun/Adjective/Verb sentence structure
・Use of Japanese particles
・3 different Ko-So-A-Do-System (physical distance between the speaker and the listener)
・Expressions using 'who, which, what, where, when, how much'


Video-On-Demand Online Lessons


Video-on-demand lessons are for you if you want to watch recorded lessons in your own time.

There are 5 levels, comprising of 51 lessons which have over 500 short tutorial videos
(totalling 66 hours) and over 200 downloadable documents. 
You select how many levels you would like to study.
You will have the same experience as students who come to the classroom do.

Konnichiwa ! My name is Miki Omori. I am so happy you are here. 🥳
Arigatoo for your interest in learning Japanese and I welcome you to iStudyJapanese.
"
Miki is patient, flexible & her tutoring is the only value for money service I know of. She cares about her service, is innovative, open to feedback & ever improving. I honestly believe for informal Japanese study you could not do any better. - Ray
"
Miki explains concepts that are easy to understand and takes it one step further by teaching Japanese tradition and history to describe the meaning behind certain words and phrases. This makes her classes interesting and entertaining to watch. She truly makes learning Japanese easy and fun! - Pauline
"
I particularly appreciated how she helped me to be sympathetic to the nuances of Japanese, by relating them back to quirks of my own language that I took for granted. - Tristan
"
I've just returned from a trip to Japan and was pleased about how much Japanese I could speak. And that I was understood. Not only were all the practical things useful like directions, transport, ordering meals, etc, but it was great to feel that bit more polite to the Japanese people with correct greetings etc. Miki's classes made me feel really confident to give my Japanese skills a go on the trip. And I truly think this made this Japan trip a lot more fulfilling than the last. - Liz
"
Miki uses a syllabus she has developed herself, and the materials to go with it. Her syllabus is based on contemporary use of the language, so that you can converse in at least a rudimentary way when you visit Japan. . - Mary Anne
"
I feel like learning is not intimidating like it was before. Miki-san is an excellent teacher, the humour in classes is wonderful and I don't feel overwhelmed by anything. - Adriyel
We pay respect and thank the indigenous people of Australia on whose land iStudyJapanese is located.